It's been a busy week for Warner Music Group.
First we learned that it had acquired the catalogue of Indonesian label ISS, then that it had sold Chrysalis Records to Chris Wright and the Blue Raincoat team as part of its post-Parlophone divestment process.
Now, WMG has announced that it's acquired X5 Music Group (X5).
X5 specializes in licensing deep catalogue and specific genres of music to create playlists, streaming and download products.
The move comes two years after Warner's WEA acquired rising streaming compilation brand Playlists.net for an undisclosed fee.
X5 will continue to operate as a standalone company under its existing management, led by CEO and co-founder Johan Lagerlöf.
Its operations will be overseen by Tim Fraser-Harding, WMG's President, Global Catalog, Recorded Music.
X5 was founded in 2003 and is headquartered in Stockholm, Sweden.
It originally developed its speciality by licensing and curating classical repertoire, before branching out into other genres.
X5 is positioned to provide new opportunities for WMG's deep catalog and repertoire around the world. It will also continue to work with third-party partners.
"X5 IS AN INCREDIBLY EXCITING COMPANY THAT HAS DONE GREAT THINGS IN THE DIGITAL SPACE."

TIM FRASER-HARDING, WARNER MUSIC GROUP
Tim Fraser-Harding said: "X5 is an incredibly exciting company that has done great things in the digital space.
"This team, led by Johan, has an impressive ability to curate specific genres of music and create engaging and accessible digital products and playlists. We hope to help X5 grow its business in the years ahead and believe that we in turn will benefit hugely from its experience."
Stu Bergen, CEO, International and Global Commercial Services, WMG, added: "It is a pleasure to welcome X5 to the Warner Music family. X5 will bring its unrivalled expertise to bear on behalf of the vast range of music we are honored to be promoting around the world."
Johan Lagerlöf said: "Our business is to increase the value of catalog music by putting it in the right context.
"We are excited to be working with the amazing catalog of Warner Music Group and look forward to harnessing our scalable business model to increase its value.
"X5 has helped pioneer the digital music business for more than a decade and now we are bringing our unique expertise and experience to WMG."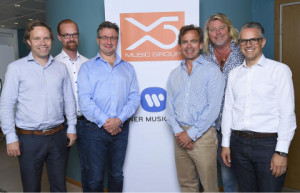 [Pictured L_R: Johan Lagerlöf (CEO, X5 Music Group), Stefan Enberg (COO, X5 Music Group), Tim Fraser-Harding (President, Global Catalog, Recorded Music, WMG), Harald Kjessler (Chairman of the X5 Music Group Board), Jonas Siljemark (President, Warner Music Nordic) and Dirk Ewald (Senior Vice President, Global Catalog Management, WMG Global Catalog).]Music Business Worldwide
http://www.musicbusinessworldwide.com/warner-acquires-swedish-playlist-firm-x5-music/